The first completely legal licence free digital audio link in Europe: STAT/STAR1800
Benefits
Completely legal
Complete free to use
No notification
Distance range and wave propagation identical to 1500MHz band
Perfect digital audio quality
Limited audio delay
Easy and quick installation with low cost coax cable
Optional internal stereo and RDS coder (MPX output)
The used frequency band is 1795 to 1800 MHz and is completely free to use with 20mW EIRP, according to the harmonized European Standard for wireless audio devices EN 301 357.
The STAT/STAR1800 system is 100% compliant with this standard (
see document
). The standard is implemented in most European countries. (
see FAQ list
).
Questions
How is it possible to reach such a large distance (33km) with so little power (20mW)?
Because digital audio is combined with techniques only used in satellite links (see FAQ list).
Answers to all emerging questions?
See the FAQ list
.
Other questions?
Contact us
!
Development
We designed this innovative STL because there are too much disadvantages with the present generation of STLs:
1500MHz (Belgium): licence required and yearly fee (+-1600 euros), too noisy sometimes.
869MHz (Belgium): illegal, is now being confiscated by BIPT.
10GHz (Belgium & The Netherlands): expensive equipment, licensed, yearly fee, only line of sight.
2.4GHz & 5.8GHz WiFi: illegal because the antennas mustn't be changed and may not be put in a mast.
Internet/IP: cheap equipment, subscription money, long audio delay, reliability? (internet dropouts).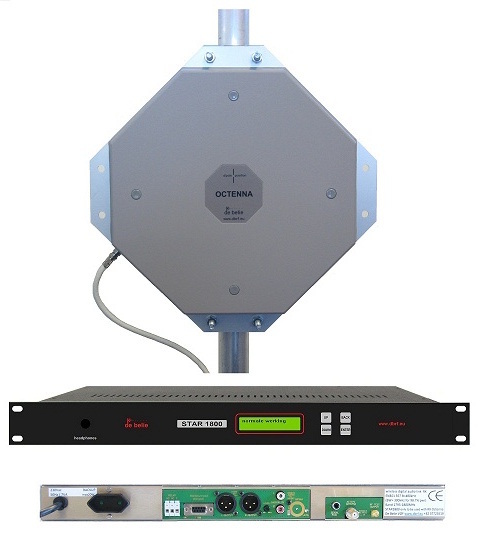 License free audio link Licence free audio STL
Licence free audio link
Licence free RF audio link
Licence free 1.8GHz audio link
No licence audio link
No licence 1.8GHz audio link
EN301 357 audio link STL
No licence 1.8GHz digital audio link
Licence exempt 1.8GHz digital audio link
Free use audio link
No tax audio link
No tax digital audio RF link 1.8GHz
FM broadcast link
Point to point
STAT1800
STAR1800
OCTENNA